Community Manager
Staff member
Community Manager
Update to version 8.158
Dear Community,
Our new update to version 8.158 will be released on Tuesday, February 12nd.
Next to some bugfixes and backend improvements this version brings a way to mass assign flags to your villages.
Changes and Improvements
Mass Flag Assigning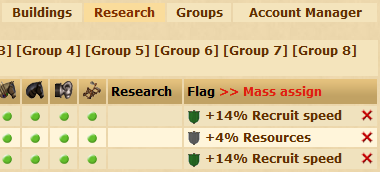 You can now mass assign (and unassign) flags to village groups from the research overview. Simply open the mass assign screen and select the option and type of flag and level you want to assign. Flags that currently have a cooldown period, or cannot otherwise be removed, will not be changed. Additionally flags will not be removed from villages that have active Flag Booster benefit.
Bugfixes
Rally Point Unit Types
The Rally Point will no longer display "Infantry" for all unit types.
Request Resources Template Issues
We fixed an issue with the request resource templates. Now, if the total amount of resources in the template is larger than the capacity, the resources are split based on their ratio in the template.
Maximum Market Requests
Choosing the "Maximum" setting for market requests is now working properly on the mobile browser version and mobile apps.
Recruiting too many units
It should no longer be possible to begin unit recruitment when an invalid amount of units is entered.
Defender Simulation
For defenders the "This village" option in the simulator uses all available units again.
Barbarian Morale
Copying a barbarian village from a report to the simulator will now display the correct morale value (100%).
Feedback
If you want to share your feedback with us, you can do so in
this thread
The Tribal Wars Team
Last edited: